Lagoon Seventy8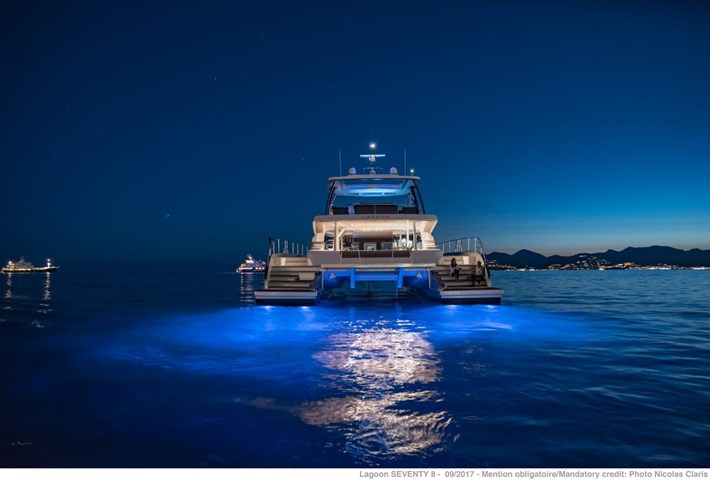 The new Lagoon SEVENTY 8 is here and it is magnificent.
SEVENTY 8 is Lagoon's fresh new flagship. It started its transatlantic sail from Cannes to Antigua last fall. The crew sailed with the yacht for 12 days and 18 hours, enjoying the company of dolphins and flying fishes, as well as yoga sessions and barbecues. The average speed of the boat was 8.5 knots during the first 11 days with a consumption of 11 liters per hour. In Antigua the crew got off the yacht for a swim and for filling the tanks, and made their way to the Fort Lauderdale boat show.

Lagoon developed cutting-edge solutions for owners that desire a new generation of large motor yachts. It was a challenge but the results are beyond expectations. The enormous flybridge can be fully customized (with a Jacuzzi, a large foldaway dining table to starboard and an impressive sun lounge fore, a hard top or bimini fitted with an electric sliding sunroof, just to number a few) and the exterior design offers well-being and comfort at sea. Because of the ergonomically-designed helm station navigation is enjoyable and easy and clients can admire the ocean at the same time.
Interior of the SEVENTY 8 introduces a world of luxury and balance. Elegance and harmony of the finishings and the refined interior woodwork, with materials chosen by Nauta Design, extend throughout the vast saloon that features a contemporary style and large windows that offer panoramic views, and easy access form the inside to the outside and vice-versa A separated owner's suite enables direct access to the sea through a private swim platform. Finding a flaw in the SEVENTY 8 is hard.
The cabins are filled with natural light through large hull windows and a maximum of five can be added to your customized layout – up to 25m2 are to be fully customized to the owner's wishes. Some of the suggested customizations are a meeting room, a cinema or a games room. Each of the cabins features an island bed, plenty of storage and an en-suite bathroom… Last but not least, the SEVENTY 8 is equipped with a powerful engine and large fuel tanks, and a very good fresh water capacity.
The SEVENTY 8 experience is guaranteed to be one of a kind for those who are looking for a large and luxurious yacht.